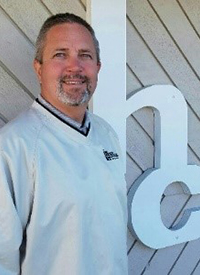 "…we take hold of the superior leadership and firm foundation established by outstanding individuals, covering multi-generations of team members and forge ahead with our work to build a wide array of custom commercial projects for the people and businesses in Kansas."
– Brandon Hughes, President
Harbin Construction was chartered as a Kansas Corporation in 1954 by our founder, Bill Harbin.  Mr. Harbin, a professional engineer, began Harbin Construction more than 65 years ago with its primary construction emphasis on residential, as well as light commercial construction remodeling, and renovation projects.  Today, Harbin Construction is a multi-disciplinary, financially sound general construction firm, built upon 60+ years of experience and core relationships. 
Throughout our first 30 years, Harbin Construction established itself as a premier general contractor in Central Kansas with projects tailored towards the commercial industry.  In 1972, Ross Hoffhines (former President) joined the Team.  Ross' strong estimating skills honed by years of hands on experience, and job cost histories, proved worthy as our ability to provide competitive bids, negotiate work, and build relationships was solidified.  Then in 1994, Ross Hoffhines purchased 100% of the shares from Mr. Harbin, upon his retirement that same year.
Brandon Hughes, President, joined the Harbin team in 2001.  Brandon, a licensed building contractor, has over 25 years of construction experience, encompassing a wide array of aspects within the industry.  In 2006, a partnership ensued which helped to secure a successful and smooth transition of leadership, setting the path for the years to come. Upon Ross' full retirement in 2014, Brandon assumed full ownership.  Brandon's personal integrity, dynamic leadership, and management style along with the high value he places on people and living out our core values sets, the tone for a company culture that operates on the premise that what we do MATTERS!
Our greatest assets are our Team members. For almost 65-years we've been blessed to have had many talented, strong, hard-working, professional and dedicated superintendents, project managers and carpenters lend their skills and craft to the Harbin name. We believe that we are not just constructing buildings but rather we are building communities and making a positive impact in the lives of those our work touches.
Looking towards the future, Harbin Construction seeks to be your Kansas contractor of choice. Harbin Construction is proud to have such a long, rich history – "Committed to Excellence" since 1954.